Importing countries do:
In the UK - the National Health Service recovers via the "clawback" mechanism the average saving it estimates pharmacies have realised from their total parallel trade purchases
In Ireland and Sweden - a parallel traded product must offer savings to the state before it is reimbursed
In the Netherlands and Norway - the cost difference between the domestic product and its parallel-traded equivalent is split between the dispensing pharmacist and the payer
In Germany and Denmark - the sick funds and government respectively oblige pharmacists to dispense cheaper synonyms, including parallel-traded forms, when certain levels of savings are possible
As do exporting countries:
Wholesalers in exporting countries are legally obliged to meet domestic demand first - in fact most countries impose, through national law or a voluntary code of conduct, a so-called "public service obligation"
But the distribution chain - wholesalers and community pharmacies - needs a certain level of income to provide the prompt and highly efficient service European patients have come to expect. Additional income from margins with parallel trade sales lessens the burden on the social healthcare system of exporting countries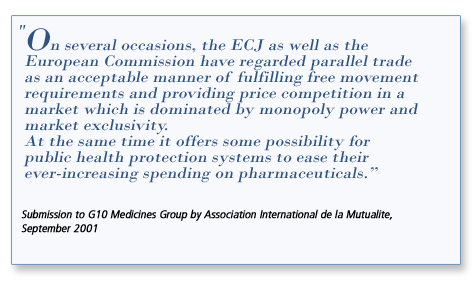 So do patients:
In Belgium, Denmark, Finland, France, Greece, Luxembourg, Norway, Portugal, Spain, Sweden the majority of patients pay a share of the cost of prescribed medicines they consume, so use of cheaper parallel-traded products will mean lower out-of-pocket demands
With so-called "lifestyle drugs" - treatments for erectile dysfunction, smoking cessation aids and oral contraceptives - the "patient" makes a direct saving from the cash purchase of a parallel-traded medicine on private prescription. WIdO, the statistical arm of the AOK, the Federal Association of Local Sick funds in Germany, is on the record as saying that women in Germany can save 54% on the pharmacy-selling price of Stediril D, an oral contraceptive, by purchasing it in parallel trade form.
Finally, doctors and pharmacies also benefit:
It has been estimated that office-based doctors in Germany can save between €2500 and €5000 on their drug budget each year by prescribing parallel-traded versions, all of which are priced on average 10% less (some can be even 30% less) than their domestic equivalents.
It is no coincidence that parallel trade penetration is highest where pharmacies are either financially rewarded for the use of parallel trade (Netherlands) or penalised for not doing so (UK, Germany)